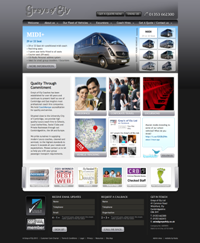 Renowned family-run Cambridgeshire coach operator Grey's of Ely has launched a new website specifically built as a mobile site.
It will run alongside the award-winning full version, but enables users easier access to key information when accessing from a mobile device.
In August 2011, published data showed a 4,000% growth in the proportion of UK web traffic accounted for by mobile devices, the percentage having jumped from 0.02% in September 2009 to 8.09% (statistics taken from TecMark London).
In reaction to more site users visiting its web site from mobile devices, Grey's of Ely released the mobile version, which contains basic company and vehicle information, quotation, contact forms and their unique live vehicletracking interface. The site also reminds users of the company's presence on social media sites Twitter and Facebook.
Richard Grey, managing director of Grey's of Ely, said: "Using Google Analytics, we could see that more clients were viewing our site from phones. We therefore decided it was time to evolve our website a stage further to make their experience easier.
"The key to a mobile version is to keep it nice and simple, so it will load quickly and be easy to navigate. We concentrated on the six key areas which people require the most from our main site and formed the rest of the mobile site around them. The initial feedback has been very positive with users of iPhone, Blackberry and Android."
Visit Grey's website at www.greysofely.co.uk