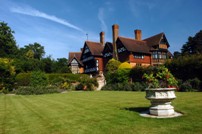 Grim's Dyke widens its driveway entrance to cater for the coach tourism industry
The Grim's Dyke country house hotel and gardens, former home of Sir William Gilbert of the world famous Gilbert & Sullivan operatic partnership, is now welcoming coach parties following a decision to widen the driveway entrance.
The hotel, located in a beautiful tranquil setting at Harrow Weald, Middlesex, is just 12 miles from London's West End. An ideal setting for wedding receptions, corporate events and parties, Grim's Dyke has wanted to attract coach tour business for a long time but the restricted access to the driveway has made it impossible.
It is hoped the move will prove popular with tour operators and coach companies, leading to a rise in visitor numbers.
The Grade II listed building, set in 40 acres of formal gardens and woodlands, features classic Gothic Victorian architecture.
The inside of the house is equally stunning with features such as the recently refurbished Music Room and its beautiful vaulted ceiling and original minstrel's gallery.
The hotel's double AA-rosetted restaurant is popular with both locals and hotel guests. Head chef Daren Mason sources ingredients for his dishes from the hotel's vegetable gardens and orchards.
There is a busy entertainment programme which runs throughout the year and includes Gilbert & Sullivan Opera Dinners, jazz nights, Murder Mystery Evenings and Gourmet Dinners.
The Grim's Dyke's formal gardens feature rhododendron bushes that were planted by Lady Gilbert, 100-year-old Giant Redwood trees and a thriving wildlife community which includes an unusual species of deer.
The surrounding woodlands include a nature walk, the site of the boating lake where Sir William tragically drowned and a recently restored Victorian orchard which is home to many rare Victorian species of apple.
For more information visit www.grimsdyke.com