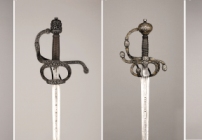 The Wallace Collection in London's West End is hosting The Noble Art of the Sword, an exhibition telling the story of the skilled artistry of swords in the Renaissance period.
Centuries ago, warrior knights used their swords not only as weapons, but as symbols of their elite class. In the 16th century Renaissance, civilian swords also became works of art.
The displays show how these weapons also became fashion items representing the rise of a new upwardly-mobile middle class.
The Wallace Collection is a national museum in a historic London town house just behind Selfridges department store. It contains one of the world's finest collections of Old Master paintings, including the famous Laughing Cavalier by Franz Hals, as well as furniture, sculptures, galleries of princely arms and armour, and important displays of gold boxes and miniatures.
In March three newly-refurbished Dutch galleries are opening in the East Wing. The museum is open daily between 1000-1700hrs, and admission is free. The Noble Art of the Sword will be on display from May 17 to September 16, 2012.
Groups are welcomed at the museum, and visits can be combined with a morning's shopping and afternoon tea in the restaurant.
Private guided tours with a Wallace Collection guide lecturer are available on a range of subjects between 1000-1530hrs. The cost is £6 per person or a minimum charge of £60 per guide.
A maximum of 25 people can be addressed per guide, but it is possible to run two tours concurrently. A maximum of 50 people can be accommodated on any one day. Bookings must be made at least two weeks in advance.
Exclusive access tours are also available in the morning before the museum opens to the public, between 0900-1000hrs.
Coaches may drop off and pick up directly outside. Some parking is available for small minibuses subject to availability.
The Wallace Restaurant serves morning coffees and pastries, lunches and afternoon tea, as well as snacks throughout the day.