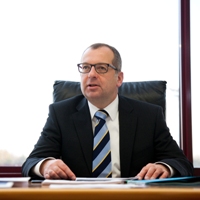 Filip Van Hool has become the company's Chief Executive Officer. He will bear operational responsibility for the overall activities of Van Hool and remains a member of the Board of Directors.
"I would like to thank the Board of Directors and the family for their confidence in me," said Filip Van Hool. "These are exceptionally exciting times for our company – operating in market conditions which are not always easy. But I can see opportunities for Van Hool in both areas in which we are active: in the bus and coach market and in industrial vehicles. Together with the management team, I shall continue to ensure the company's and the brand's values are upheld and reinforced: the high quality of our products, the customer focus and the further extension of the service provided to our customers remain our main objectives."
Filip Van Hool is the grandson of founder Bernard Van Hool and joined the company in 1989. He obtained degrees in Applied Economic Sciences and Business Engineering at Antwerp University and EHSAL Management School respectively. He became a member of the Executive team in 1999 and took charge of the overall operations of the Bus&Car division. In 2007 he became a director of Van Hool nv and ABC Companies USA, Van Hool's exclusive distributor in the USA.