First Aberdeen has announced the introduction of its Tap & Cap, a form of contactless payment which enables passengers to cap travel charges on their journeys.
This means that passengers will never pay more than £4.40 a day or £18 per week, regardless of how many journeys they take.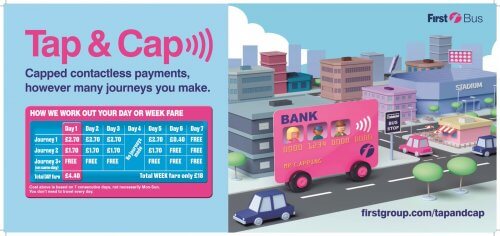 Introduced on 28 July, the system will automatically select the cheapest on-bus fare available based on the number of journeys a passenger makes.
The first journey of the day will cost the same price as a single ticket, whilst for the second journey, the passenger will be charged the difference between a single and day ticket, totalling the day ticket price of £4.40.
Bus travel across seven days will also be capped, so when a passenger's travel reaches the price of the Week ticket, the price is capped, resulting in savings of up to £12.80.
Graeme Macfarlan, Commercial Director at First Aberdeen, said: "We wanted to continue with improvements across our contactless offering as Aberdeen was the quickest to adopt this popular payment method on our buses across our entire UK bus operations and so it was the obvious first choice to be upgraded to the new Tap and Cap contactless payment system, similar to the London Oyster Card offering.
"The new system guarantees that customers will always get the best value fare to suit their own travel needs based on their individual travel pattern and will make life easier for our customers by making bus more accessible than ever."
Read more news here: cbwmagazine.com/category/news