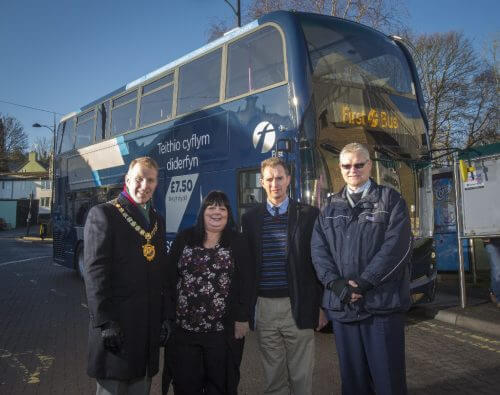 First West of England has invested £750,000 in three new vehicles for its Severn Express service between Newport, Chepstow and Bristol
The Euro 6 ADL Enviro400 MMC buses have replaced Wrightbus Gemini-bodied Volvo B7TLs along the 18-mile Severn Express route. The new vehicles utilise start-stop technology, which cuts out the engine when a bus is stationary.
Each of the three buses has a different type of seat made of different materials, which provide slightly different experiences. The bus company is trialling the new seats and will issue feedback questionnaires on set dates to find out what passengers think of each type.
First West of England Managing Director, James Freeman, said: "These new buses will make a significant contribution towards our environmental performance.
"Following an ambitious £25m investment programme which started two years ago, almost a quarter of our West of England fleet now consists of significantly cleaner buses, and the numbers are increasing steadily."
The buses are specified with free WiFi, and in the coming months they will also be fitted with USB charging points at every seat, so passengers can keep their devices charged during the journey.
James added: "We decided to install USB charging points on the Severn Express because the distance covered is more than most of our other services and as a result the journey takes longer.
"We hope our passengers appreciate this added convenience once the charging points are installed".
Monmouth MP David Davies said: "Many of my constituents work in Bristol, so a fast bus service with state-of-the-art technology is important to provide an alternative to train and car travel, especially with the increasing levels of congestion on the major roads across South Wales."
Chepstow Mayor Cllr Paul Pavia said: "Chepstow is the Welsh town nearest to Bristol, with excellent schools, facilities, and – as the Severn Express service shows – excellent, affordable connections into Bristol and the West of England.
"Driving into Bristol for work can be quite expensive. Once you add cost of a day's parking, fuel consumption and tolls, it could be as much as £22. By train it's more than £10. On the Severn Express, you're looking at £5.40 for two single journeys, so 75% cheaper than driving by car and around 50% cheaper than a return train ticket."