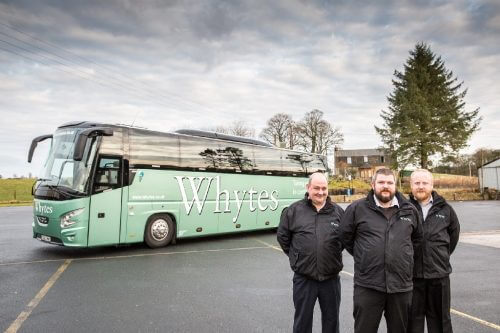 Whytes of Aberdeen is returning to tour operation after a change in ownership in April 2016
The operator made its name operating coach tours from north-east Scotland and prided itself on having a quality product to sell. Bill and Nora Whyte often drove hundreds of miles to check the quality of hotels and fine tune their tours, in the hope that the tours would meet the customers' expectation. Other members of the Whyte family joined the business and the business expanded using the same business model.
However, in 2013 to decision was made to end Whytes touring work, with the focus instead placed on contract and private hire.
David Campbell, now co-owner of the company, explained: "While this decision was a huge disappointment to many of the staff, it was a decision which we had to respect.
"We missed our tour customers visiting Newmachar as they booked or paid for their holidays, and we missed the banter we shared with them. As a result, the last three years have been a little dull.
"In April 2016, Andrew Urquhart, one of Bill and Nora's grandchildren, Jason Carrison and myself were able to acquire Whytes Coaches Ltd and I immediately identified the desire shown by both Andrew and Jason to restart coach tours.
"As I had spent time as both a tour driver and the company's Transport Manager, my arm didn't require much twisting."
The operator has produced a brochure for the 2017 season, following a busy few months, booking hotels, organising attractions to visit and fulfilling the legal obligations required to sell holidays. The brochure is now ready for printing and will be distributed early in the new year, with copies sent to all of the company's previous tour customers.
In a report in the Aberdeen & Grampian Chamber of Commerce, Andrew Urquart added: "We're very keen to get back in to the coach tours market and are looking forward to an exciting year as the company celebrates 50 years in business.
"The current economic climate and the value of the pound following the Brexit vote are making foreign holidays less attractive to people, so we hope to tap into what should be a buoyant 'staycation' market for 2017 as people opt for UK holidays.
"Coach tours have always been popular with North-east residents and we anticipate significant interest from across the region.