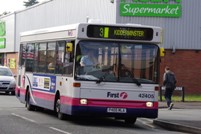 £1.5m deal for Kidderminster & Redditch garages remains subject to completion of contracts
First has agreed to sell its Kidderminster & Redditch garages to Rotala. The £1.5m deal includes two freehold depots, 36 vehicles, and various items of plant and equipment.
Built in 2001, the two-acre Kidderminster depot can hold up to 60 vehicles but has an allocation of 20. Notably, the garage is located in the middle of a roundabout – at the junction of the A451 and A442.
Redditch's Plymouth Road depot, built about 35 years ago, has a slightly smaller useable area. It can accommodate about 50 vehicles, but has an allocation of 31. In the year ended June 30, 2012, these depots reported combined revenues of £5.2m and an operating loss of £0.27m. They employ about 120 staff.
Rotala said the deal would enable it to expand and consolidate its position in those areas of Worcestershire which are contiguous to its main Birmingham operations. "By integrating these depots into its current network, the company can take advantage of operating efficiencies generated by the acquisition."
On the financial aspects, Rotala said: "The acquisition is not expected to have a material impact on earnings in this financial year. Once integration of operations and overheads has been implemented, the acquisition is expected to have a beneficial effect in the following years. On the basis of information available the acquisition is expected to generate a small amount of negative goodwill."
Giles Fearnley, First UK Bus MD, told CBW: "Redditch and Kidderminster are businesses where we have previously seen lower than average margins. They are not core to our operations and fit better with Rotala's existing portfolio in the area.
"This marks further progress in disposing of selected assets and businesses as we review the scale of our portfolio and reposition it for the longer term. We are progressing our programme to recover performance and equip our UK Bus division to achieve sustainable revenue and patronage growth.
"The decision is business driven and does not reflect on the effort or performance of the staff. We will fully supporting them as they transfer to their new employer."
Asked by CBW whether the deal was notified to the competition authorities, a spokesman for FirstGroup replied: "The deal is not conditional on any OFT clearance."
CBW understands the depots have yet to be transferred to Rotala, with contracts of intent only having been signed at this stage. It will probably be four to six weeks before the deal concludes, assuming the OFT does not get involved.
Asked by CBW whether it was intending to investigate the deal, an OFT spokesman replied: "We tend not to be able to comment as to whether or not we will be investigating. We certainly cannot speculate. However there is currently no live investigation."
However in relation to Stagecoach's acquisition of First's Wigan business, an OFT spokesman pointed out in last week's issue: "Merging parties don't have to notify us prior to a transaction but it can be done voluntarily – and the OFT can carry it out before or after completion. We have four months from the point it reaches the public domain or when the transaction completes to reach a decision."