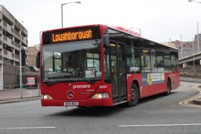 RSM Tenon said a buyer could not be found for the now defunct Midlands firm
Nottingham-based Premiere Travel ceased trading on Friday (January 25).
The operator was looking for a buyer, but accountancy and business advice firm RSM Tenon, which had been appointed to help Premiere find a buyer, said no buyer could be found.
Paul Finnity, partner at RSM Tenon, said: "Several parties, including RSM Tenon, were working together to find a suitable buyer for Premiere.
"However, we have been unable to secure one and are now carrying out an orderly wind-down of the business.
"We are hoping Premiere employees will be taken on by the companies which take over the routes Premiere has been running."
Both trent barton and NCT have stepped in to fill the void, registering new services and taking over former Premiere routes.
NCT started operating new services 47, 47A on Monday (January 28) which will follow the same routes as former Premiere services Red 7 and 7.1:
47 from Calverton via Lambley, Woodborough, Mapperley Plains and Mapperley to the city centre
47A from Calverton via Arnold, Mapperley Plains and Mapperley to the city centre.
The 47, 47A will operate seven days a week, with buses generally every half hour Monday to Saturday daytimes between Calverton, Mapperley Plains and the city centre. Evening buses will also run.
NCT is accepting Premiere's tickets for a short-period on every NCT service in Nottingham to allow customers to use up existing travel they have purchased and switch to NCT tickets.
David Astill, NCT Commercial Manager, said: "I am pleased to confirm NCT has been able to muster from within its resources the additional buses and drivers required to restore a bus service to Nottingham from Woodborough, Lambley and Mapperley Plains following the sad and abrupt end to the operations by Premiere."
Jeff Counsell, trent barton MD, said: "We will be taking steps to ensure bus users who hold Premiere travel tickets will be able to use them free of charge on our services and we will exchange their period tickets for a trent barton or Kinchbus equivalent.
"We have extra staff and buses in place to help, including a replacement Kinchbus 9 service between Loughborough and Nottingham."
Stagecoach, Doyles, Tiger European, Sharps, Paul Winson and AOT have also stepped in to take on Premiere's services.
Premiere Travel was started up in 2002 with just two Leyland Nationals. At the time of its demise it ran 19 bus routes across Nottinghamshire, Leicestershire and Derbyshire.
Paul Finnity added: "Premiere has over-traded. It has expanded quickly and was under-capitalised. It is an excellent business but expanded perhaps too rapidly."