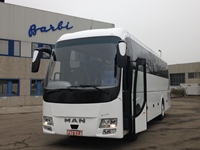 Operator takes two Barbi coaches alongside a MOBIpeople Midi-Explorer from BASE
The first two 10.8m MAN Barbi Galileo HD to enter the UK has entered service with Timberbush Tours.
The 47 seater vehicles, built on the MAN RR2 chassis, are powered by 360bhp engines, coupled with and fully automatic ZF gearboxes.
The two vehicles are being supplied with a third order for a MOBIpeople Midi-Explorer, based on the MAN 10.220 TGL which has proven to be a very popular specification in Timberbush's fleet.
Nick Dodgson, General Sales Manager at BASE Ltd, commented: "We are delighted to be supplying Timberbush for the third year in a row, especially as it is the first UK customer to take the Barbi Galileo HD 10.8m.
"The 10.8m is proving to be a very popular model in the Barbi range which is now available from 10.35m to 13.8m."
Timberbush's Transport Manager Ronnie Stark stated: "We decided to order the Barbi Galileo having seen the coach at the NEC last year.
"After detailed discussions with BASE and Barbi, we agreed on a 10.8m specification with 47 seats, which exactly met our needs.
"We were delighted with the quality of build, and the partnership between MAN and BASE which has resulted in a superb coach. The excellent workmanship that has gone into this vehicle has been second to none, and of course the great price helped us make our mind up."
Timberbush Tours Managing Director Gary Voy added: "Both BASE and MAN have been so easy to work with and have delivered on time as promised for the last three years.
"Having worked with both of these businesses for two seasons already, we have been delighted with the quality of service and the coaches themselves.
"It is important to say that the feedback from our corporate guests, tourism passengers, and our coach drivers, has always been positive and complimentary. We look forward to continuing this working relationship and building on it."
INFO
Further details on the Barbi Galileo range are available from BASE Ltd on 01772 425355 or www.basecoachsales.com