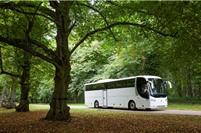 The limited edition Finesse version of the Scania OmniExpress coach for 2016, of which 25 were available, has sold out.
Finesse model coaches feature lateral displacement to all passenger seats, Webasto pre-heater, GPS navigation system and BiXenon headlights in addition to an already exclusive specification including half-leather seating with three-point seatbelts, full executive amenities and Durabright aluminium wheel rims.
The entire limited edition batch of Scania OmniExpress Finesse touring coaches will be delivered during 2016, with repeat orders from Skills of Nottingham, Lucketts Travel Group, Johnsons Coaches of Henley in Arden, New Adventure Travel, and Travelstar of Gatwick.
With the addition of new customers, Scania GB has said 2016 will be a record year for deliveries of the complete Scania OmniExpress coach in the UK.
Martin West, General Manager of Retail Sales for Scania GB, said: "We have been extremely pleased that so many customers have welcomed the upgraded specification on our OmniExpress this year.
"Next year will see the introduction of a new highly specified offering from Scania, which is scheduled to be launched at the Euro Bus Expo in November. This will further enhance what is already a superb range of coaches, all of which benefit from a suite of inclusive packages that are unrivalled in the industry.
"The new model – which we are really looking forward to introducing to the market later this year – will, as always when investing in Scania, include bespoke driver and technician training, complementary fleet management data and a two year repair and maintenance package."