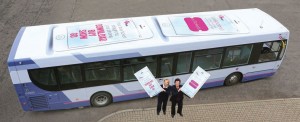 Service is already available in Aberdeen and Worcester First UK Bus has recently launched Corethree's award winning m-ticketing service.
The 'First Bus mobile tickets' app offers First customers a self-service facility to purchase bus tickets while on the move. Once purchased, m-tickets are downloaded to passengers' smartphone devices ready for inspection when boarding.
The First m-ticketing system will be rolled out during 2014 across its UK bus operations with First Aberdeen and First Worcester already offering customers the innovative new payment option.
The m-ticketing solution is available on both iOS and Android smartphones with Corethree's Core Engine technology platform hosting the service.
Core Engine will also provide the capability to monitor the solution in real-time and deliver powerful business intelligence and analytics.
Corethree's CEO, Ashley Murdoch said: "Service capabilities of Corethree's mobile ticketing solutions have enhanced significantly already in 2014 and we are delighted to be working in partnership with First. Passengers will now have greater payment options when accessing the bus using our ubiquitous m-commerce platform."
Giles Fearnley, Managing Director at First UK Bus, said: "I am confident that our investment in m-ticketing will be enthusiastically welcomed by our customers and strongly supports our strategy to attract new ones. We are delighted to be working with Corethree and are looking forward to bringing M-Ticketing to life across our UK operations this year."
Meanwhile, First in the West of England has updated its own app to display fare information for single journeys alongside timetables, allowing users to plan a journey and know how much it will cost in advance.
The app is available on Android and IOS, although users of Blackberry or Windows-based smartphones can access fares information online.