Chinese manufacturer BYD's French factory produces first vehicles that go to a local customer
BYD France has delivered its first pure electric ebuses assembled in its Beauvais factory.
An inaugural ceremony was held to mark the delivery of two 12m vehicles to the Agglo du Beauvaisis, the community of the Beauvais area and they're expected to enter service this month operating daily from the Beauvais-Tillé airport to the city hall and train station as well as on an express shuttle bus route serving hotels.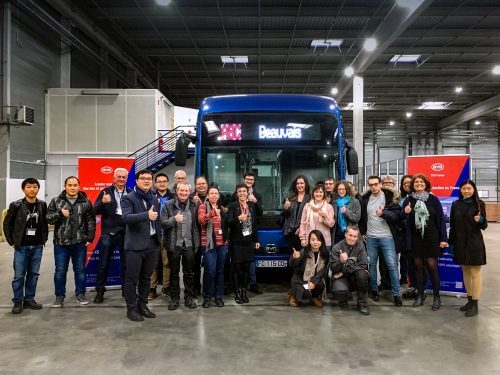 The vehicles, operated by Transdev, will drive up to 160km a day and will be charged overnight at Corolis, a Transdev network depot in Beauvais.
They're capable of operating for the whole day on a single charge.
Isbrand Ho, Managing Director of BYD Europe and President of BYD France, said: "We are very pleased to deliver our first ebuses to Beauvais, the region where our plant is established.
The French electric bus and coach market is one of the largest in Europe, and that is one of the main reasons why we have chosen our production site to serve the French market to be in Allonne.
Here we can optimally serve our French clients, we are close to our customers and we can produce tailor made ebuses with our team of local employees.
BYD has the capacity to make zero emission French-built electric buses in line with the spirit of the 2015 Paris Climate Summit."
BYD has confirmed over 600 ebus orders in Europe, which makes the company the number one supplier of electric buses in the subcontinent.
Over 35,000 BYD electric buses have been delivered worldwide that have driven over 20m km in service.