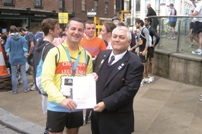 Children with Cancer charity benefits from company and staff goodwill
 Sheffield bus driver Jon Pitsch, 44, took part in the Sheffield 10k on Sunday October 9 for a children's cancer charity.
Jon, who drives for First from its Olive Grove depot in Sheffield, was determined to raise a substantial amount of money for Children with Cancer and asked First to sponsor him to take part in the run.
The operator set up a charity committee made up of front line staff to decide where the company's charity budget should be spent, and was happy to sign a cheque for £1,000 in aid of Jon's run.
The Dronfield resident ran the course in one hour. Jon's main challenge however was to raise funds for a charity which is close to his heart following the death of his 12-year-old sister from leukaemia in 1976.
Jon has been a regular charity fundraiser for Children with Cancer (formerly Children with Leukaemia) for a number of years and is looking forward to seeing his efforts on Channel 5, which is to televise it at a later date.
He said: "I was delighted when I was told my employers First would sponsor me for £1,000 and this money will be put to good use."
George Boothman, bus driver and member of First's Charity Committee, was at the finish line to meet a tired but delighted Jon.
George said: "As the principal bus operator in South Yorkshire we see it as our responsibility to offer support to local charities and our new regional charity committee is available to those good causes needing a financial helping hand."
First has recently set up a regional charity committee to consider requests for funding and gifts from groups and organisations across the north of England. The committee, which is made up of First staff, many of whom are bus drivers, aims to provide charitable support in line with three specific criteria – young people, health and the environment.