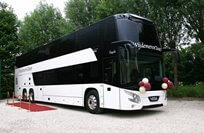 After its Busworld Kortrijk public launch VDL's new Futura FDD2 double-decker coach is now entering service with operators
HOLLAND The first VDL Futura FDD2 intended for the Dutch market has been delivered to Wijdemeren Tours of Ankeveen. The official handover also marked the twelfth and half anniversary of the operator.
"We are not only proud of our anniversary, but also of the fact that we are able to add the first Futura FDD2 intended for the Dutch market to our fleet," said Wim van ter Meij, director of Wijdemeren Tours. "With this new double-decker we can carry our passengers not only safely and reliably, but also in great comfort."
The coach has 91 passenger seats and can be reconfigured to Royal Class specification with 66 seats. There are 220-volt sockets and USB connections by each seat and there are three monitors distributed between each deck. With its very roomy interior and luggage compartment, it provides ample space for passengers and their luggage, says VDL. The vehicle is also equipped with the latest safety assistance systems.
The FDD2 has a lightweight modular construction, an example of which is the upper-deck floor made of sandwich material. This construction method gives rise to substantial weight savings and enables coach operators to carry more passengers. The lightweight construction is combined with aerodynamic styling and an economical and efficient Paccar (DAF) engine to deliver fuel savings for operators. More passengers and lower fuel costs mean maximum efficiency for the operator, says VDL.
The Wijdemeren Tours fleet comprises eight VDL vehicles – a MidEuro, one Jonckheere-bodied coach and two Axials, a pair of Synergys, a Futura Classic and now the Futura FDD2. The firm's work ranges from school trips to group tours inside and outside the Netherlands and long-distance transport to winter-sports resorts.