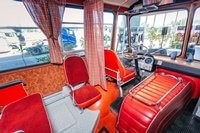 ESTONIA Scania in Estonia has unveiled its 1969 Scania-Vabis BF76-59 which has undergone a three-year restoration to bring it up to 'like new' condition. The 41-seat, 11.94m-long bus was bodied in Norway by Brødrene Repstads Karosserifabrikk, a firm that between 1925 and closure in 1990 built around 5,000 buses, and the Scania-Vabis BF76-59 chassis is powered by an 11-litre D11 engine generating 190hp. "The nearly 50 year old chassis and engine were in surprisingly good shape and very little work was needed," said Raimo Oinus, Marketing Manager at Scania Eesti.
The bus remained in service in Norway until 1994, its last three years on dedicate school work. The year it was withdrawn it was donated by Grimstad city postman Oddbjørn Lønskog to the Estonian Tarvanpää folk dance ensemble becoming their second home for many years as they travelled around the country and abroad.
By 2006, the body had become so battered it was considered beyond viable repair, but Scania Eesti heard about the bus and decided to save it from being scrapped. "We felt pity and found that it would be a shame to let this piece of history go to waste," said Raimo. "The Scania-Vabis had 310,560 kilometres on clock but we still don't know if that is in addition to one million or two."
Restoration of the bus was undertaken by Mootor Grupp at its Busland workshop in the city of Võru. The handover to Scania Eesti coincided with Scania's 125th celebrations and it will now be exhibited at events across Estonia. "It's a beauty and we're really pleased," said Raimo.