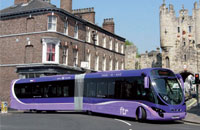 FirstGroup has confirmed Wright Gemini double deckers are to replace its ftr operation in York in Easter – the Bus Rapid Transit vehicles are to be refurbished and redeployed elsewhere in First's northern region.
ftrs were introduced on route 4 between Acomb and the University of York in May 2006, replacing an hourly service of eight conventional 41-seater vehicles with 10 and 20 minute services. First gave its assurance the high-frequency service will continue without any timetable changes.
"Whilst this was a commercial decision taken by First, it is mindful of the aspirations of York's council leaders to remove the ftr vehicles from York," said the group. "The proposal has only just been finalised following an extensive internal review. Owing to the sensitivity of these discussions, particularly with staff, First has been unable to confirm before now its future plans for ftr in York." First said at the present time, and for commercial reasons, it could not say where it intends to deploy the ftrs.
Speaking at a media event at the end of last month, Giles Fearnley, managing director of First Bus ,said the group is looking at a number of options best suited to the city or on other corridors (CBW1021). He said no decision had been made but commented it would be "sensible to keep the majority of ftrs in Yorkshire".
The Labour-run York City Council had said it wanted the removal of ftrs from the city last year. Cllr Dave Merrett welcomed First's announcement and said he looked forward to hearing proposals for its replacement, which would be "more suitable for and less damaging to York's roads." Explaining the decision, Dave Alexander, managing director for First in the North of England, said: "As part of our growth agenda we have been evaluating opportunities to utilise the ftr vehicles elsewhere in the region and are confident ftr will stimulate new public transport journeys on a route currently being developed outside of York. The removal of the ftr vehicles from York allows us to carry out refurbishment on them.
"The ftr has been an innovative public transport concept and has been successful at generating growth since its introduction five years ago. Its launch coincided with many infrastructure changes in York, the benefits of which will be felt by bus passengers for years to come.
Alexander concluded: "We will now introduce comfortable, modern double decker vehicles with lower carbon emissions. Also, and in partnership with City of York Council, we are continuing to evaluate a number of service developments, all of which are focused on increasing bus patronage in York."
However, it has been reported Unite said 29 staff facing redundancy are not being offered a "fair deal". According to BBC news, Unite said the decision would save First York more than £300,000 a year but it was only offering workers statutory redundancy terms.
A spokesman for First said: "We are currently in formal consultation with staff and the Trade Union over the removal of the ftrs in York. We cannot comment further at this stage."