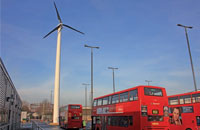 Growth in spend on green goods and services predicted to rise to £6.8bn by 2015
The need to drive down energy costs and consumption and make more efficient use of natural resources are the main forces behind a significant growth in spending on green goods and services by UK businesses over the next four years, a new report has forecast.
According to the study by independent analyst Verdantix, UK spending on energy, environment and green initiatives between 2010 and 2015 will grow by as much as 12% in 2012 – dwarfing UK gross domestic product, which is forecast to grow at just 0.6%. It predicts growth in the market for green goods and services is set to soar from £4.3m in 2012 to £6.8bn in 2015 – an average of 16% a year.
The study, which looked at the green business spending of 421 firms in the UK with revenues greater than £750m, found the biggest overall spending would be on strategic energy management, which will almost double from just over £1bn in 2010 to £1.98bn in 2015. "Over the next three years strategic energy management will be the hottest market as firms seek to cut energy expenses by between 5% and 20% with access to new integrated energy services propositions," said Rodolphe d'Arjuzon, Verdantix global head of research.
"The UK's sustainable business market is continuing to grow at a healthy rate because firms have aligned sustainability strategies with operational efficiency," said Susan Clarke, Verdantix analyst and author of the report. "Energy cost savings and more efficient use of natural resources now underpin sustainability investments – not philanthropic commitments to fight climate change."
However, sustainability spending in areas, including social responsibility, employee engagement, environment and health and safety are only expected to grow at between 5% and 6% between 2010 and 2015 – barely keeping pace with inflation – says Verdantix.
There will also be a knock on effect on green business spending should the UK economy fall back into recession in 2012, as some economist are predicting. "Compared to our original forecast in 2009, growth in spending by large UK firms on energy, environment and sustainability has already slipped back by 18 months," added d'Arjuzon.