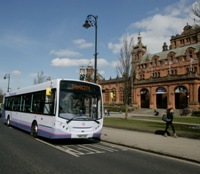 First Glasgow has confirmed its zero tolerance approach to combating vandalism has produced dramatic improvements.
Broken windows have been reduced from 8,000 about 10 years ago to just 750 for last year, the firm said. Forging close relationships with the police, the introduction of CCTV to the majority of the fleet, running anti-vandalism programmes and better engaging with local communities have been key reasons for the improvement.
First has also pledged to prosecute anyone found damaging its vehicles. The company said it recently made legal history by winning a civil court case banning vandal Nathan Chlosta from its fleet for life after damaging 26 First Glasgow buses in the space of three months. First was also awarded £10,000 damages. The vandal, who damaged windows on the buses, was given a 200 hour community payback order.
Managing Director of First Glasgow, Ronnie Park, said: "Our responsibility is to our customers – to give them a pleasant, safe experience when travelling on our buses. I am pleased that our approach to reducing vandalism, and indeed all crimes on our buses, is succeeding."
"If someone is caught causing damage to any of our vehicles, or acting in a manner that will compromise the safety of our employees and passengers, we will seek to prosecute the individual concerned. In this case we took Civil Action to prevent this individual from travelling on our buses throughout Scotland and sought compensation for the damage caused.
"We adopt this zero tolerance approach to make bus travel safer and more pleasant. In addition, as a commercial bus operator, we would much rather invest the revenue we receive from customers in improving our services, and not replacing windows or cleaning graffiti. I must stress travelling by bus travel remains a safe – crime remains low."