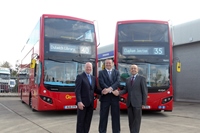 Go-Ahead London is currently taking delivery of 20 Volvo B5LH Euro 6 hybrid double-decker buses – featuring new MCV bodywork – in the first of two orders totalling 85 vehicles.
Built to TfL standards and Go-Ahead specifications, these are the first ever buses featuring the new MCV 'Evoseti' styled bodywork on a hybrid chassis to be deployed in London. Entering service on the Dulwich to Aldgate routes 35 and 40, with a further 19 to join soon, the remaining 65 vehicles will be rolled out during the rest of this year.
Richard Harrington, Engineering Director for Go-Ahead London, enthused: "It is exciting to see the first bus with MCV Evoseti bodywork enter service in London and particularly as this new concept is operating under the Go-Ahead name.
"We have trialled MCV on Euro 5 chassis previously, but never before with Euro 6 and on the widely recognised London red bus.
"We are the largest bus operator in London and have been working with Volvo Bus for many years and we continue to do so due to the excellent in-service performance and reliability we've experienced with their vehicles. They always listen to our needs and requests, and this in turn enables us to deliver the best possible vehicles for our passengers.
"We visited the MCV factory in Egypt with Volvo to see the new bodywork being developed and manufactured, and it's great to see it finished, on the chassis and entering service in London."
Phil Fletcher, Fleet Sales Manager for Volvo Bus, said: "As a leading bus manufacturer, our aim is to offer operators like Go-Ahead the best in operational performance with a good choice of bodywork to suit their many needs and requirements.  We believe the B5LH with all of its options ticks all these boxes perfectly.
"Our B5LH hybrid vehicle meets all the operational requirements and demands of London bus routes and we believe it provides some of the cleanest emissions standards available in the world today.  Like Go-Ahead, we're looking forward to seeing the bus with the new Evoseti bodywork on the streets of the capital throughout 2016."