A total of 100 buses will be supplied to KMB, a 50/50 split between integral StreetDecks and Wrightbus-bodied Volvos
Wrightbus International, the international arm of the Wrights Group, has announced two further orders from Kowloon Motor Bus (KMB) in Hong Kong.
The first order is for 50 StreetDecks and represents the first time Wrightbus integral vehicles have been ordered by KMB. The other order is for a further 50 Wrightbus-bodied Volvos.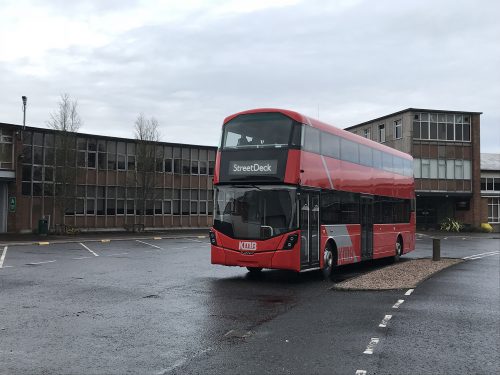 Due to be delivered and deployed on Hong Kong routes during the second half of 2019, the buses all feature twin doors and are 10.65m in length.
The twin axle StreetDecks feature a Euro VI six-cylinder Mercedes-Benz engine, coupled to a Voith D854.6 gearbox with an integral retarder.
All seats will be fitted with seatbelts, due to the fact that Hong Kong buses operate with more seated passengers than standing. Air-conditioning will be fitted in accordance with Asia Pacific specification.
The second order for the additional 50 double-decker buses are all the same tri-axle model and specification as the 150 announced in October 2018.
This latest order is expected to be delivered in early Autumn 2019 and brings the total number of units sold by the Ballymena manufacturer to Hong Kong in the last two years to 584.
The buses required to fulfil both orders will be manufactured at the new Wrightbus campus in Gracehill, Ballymena.
John McLeister, Group Business and Product Development Director, said: "The Asia Pacific market, in particular Hong Kong, is currently proving to be extremely buoyant for us. T
hese latest orders follow business concluded with KMB's sister company, LongWin Bus, as well as, City Bus and Japanese tour bus operator, Hatobus.
"In recent years we've worked hard to establish the Wrightbus name and vehicles in the region and it is exciting to see this bearing fruit and our buses going into service in places like Hong Kong and Tokyo.
We're confident that operators, drivers and passengers alike will be enjoying the many benefits these buses bring in terms of operational efficiency, reduced emissions and comfort."