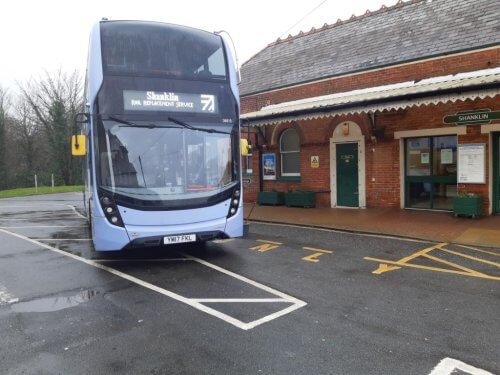 A new rail replacement unit within a First Bus OpCo is already seeing success, taking it beyond its normal operating area
Bus operator First Hampshire, Dorset and Berkshire is diversifying into rail replacement services in Southern England. The company has set up a dedicated business unit for rail replacement services and is already busy delivering its first business 'win': Until 31 March, six vehicles operating a half-hourly service will replace rail services on the Isle of Wight (Island Line) whilst work to upgrade the infrastructure along the 8.5 mile-long line is carried out as part of a £26m investment project to secure the long-term future of the line.
Although First Hampshire, Dorset and Berkshire doesn't operate any services on the island, more than half of the 13 drivers the bus operator has assigned to the project live locally, and First has secured parking and servicing arrangements as part of a pop-up depot.
Marc Reddy, Managing Director for First Hampshire, Dorset and Berkshire said: "We are delighted to announce that we've set up a dedicated rail replacement business unit which is already executing its first rail replacement contract on the Isle of Wight for Island Line customers, with the majority of driving staff being locals themselves. The safety of all our customers is our number one priority, and customers using our rail replacement services can be reassured that our vehicles will be kept to the same high maintenance and Covid-safe cleaning standards as we operate across all our operations."
Max Miller, General Manager at Island Line said: "Island Line is now closed until 31 March whilst we undertake a massive programme of upgrades to the infrastructure delivering improvements to signalling, ride quality, customer access and of course improved reliability. These improvements will enable us to provide a newly refurbished fleet of trains and a significantly improved service. The new fleet (Class 484 stock) is being tested and refurbished to achieve the highest quality safety, efficiency and passenger comfort.
"In the meantime, we are working with bus operator First Hampshire, Dorset and Berkshire to provide a quick, efficient, clean and reliable rail replacement service. The buses provide a first-class travel experience with onboard social distancing, and the vehicles are of course cleaned to the highest standards in order to satisfy Covid regulations. We ask passengers to wear a face mask when using the service unless they're exempt. The majority of the bus drivers are Island residents, which of course contributes in a small way to the Island economy and reduces the possibility of them getting lost!"
He added: "Tickets to travel will be available at all of the usual locations. Please be aware that in some circumstances, buses will not be able to serve station areas while infrastructure works are underway. Bus stops will be clearly indicated and have been placed as near as practicably possible to the stations. Finally, all of the Island Line staff look forward to delivering a vastly improved, more pleasant travel experience to all of our customers from April onwards."