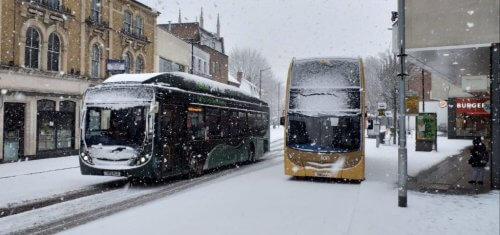 Reading Buses has heaped praise on its control room team as well as drivers and engineers for the way they responded to the first snowfall of winter.
The day started with treacherous conditions underfoot with heavy snow covering ice in the depot yard, but the company says its engineers and spare drivers went 'above and beyond' to make the yard safe for the buses about to start their day.
This allowed the driving team to begin their day with no issues. Reading Buses say the drivers on the day went about their job 'professionally and calmly' with roads being closed throughout the day due to sliding cars meaning last-minute diversions were the norm.
The company said that there were, naturally, issues on some routes due to impassable sections of road. Its jet black 1, lime 2, orange 13/14 and sky blue 15 services were the worst affected, but drivers had 'kept their cool' to ensure that even if their buses were late due to the snowy conditions, their customers on board were always safe.
The drivers assisted each other when they experienced difficulties and helped to inform the control room team about conditions as they happened which allowed them to minimise disruption to their customers.
"Our whole team were amazing and dealt with everything in a very calm, steady and professional manner," said Chief Executive Officer Robert Williams.