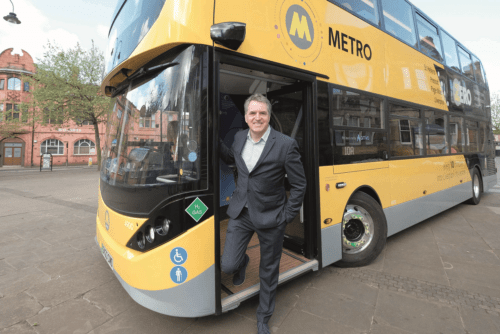 The 20-strong fleet of new hydrogen buses is owned by the Liverpool CIty Region and used by Stagecoach and Arriva
Liverpool City Region Mayor Steve Rotheram says his plans to revolutionise public transport in the area have taken 'another huge step forward' as the first of the region's new hydrogen buses begin to enter service. The buses, which the mayor likes to remind users are 'publicly-owned,' will operate services between St Helens and Liverpool city centre on the busy route 10A, which is jointly operated by Arriva and Stagecoach.
Joining passengers on board one of the new buses in St Helens, the Mayor said the new vehicles represent the 'gold standard' that he wants to see across Liverpool's transport network. They offer more space for wheelchair users and prams, audio visual announcements with real-time information, USB phone charging and free WiFi.
The Mayor said on 16 May: "Today marks a monumental moment in our region's history as our new publicly-owned hydrogen buses enter service for the first time. This new fleet is the gold standard of public transport that our residents deserve – and signifies another huge step forward in our journey to revolutionise our region's bus network.
"Designed in consultation with local people, these are some of the most accessible and sophisticated buses in the country with more space for wheelchairs, audio visual announcements, free phone charging and WiFi. The only emission they produce is clean water vapour, which will be massive in helping our region to hit its target to be net zero by 2040 – at least a decade before national Government.
"However, this is just a down payment on my ambitions for our region. Using the powers that devolution has given to us, last week we launched a public consultation to give our residents a say on the future of our buses as we work towards reregulating our network – and I would encourage all our residents to make sure their voice is heard.
"Along with our new publicly owned £500m battery powered trains, we're putting the public back into public transport and building a 21st century London-style transport network that's faster, cheaper, cleaner and more reliable – where no one is left behind."