The new vehicles are part of a £14m investment from First Glasgow in anticipation of the city's Low Emission Zone being introduced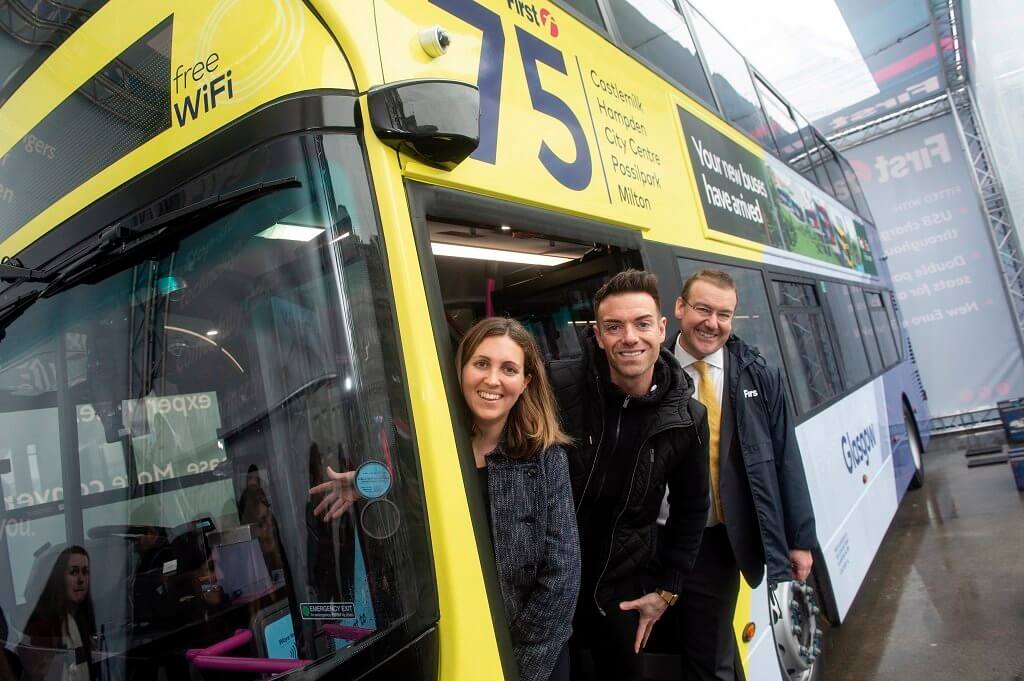 The first batch of 75 ADL Enviro400 MMCs was launched on Tuesday 9 October at George Square, Glasgow as part of a £14m investment by First Glasgow in Euro VI vehicles.
The high-profile launch saw one of the double-deckers placed inside a 20 foot-high structure designed to replicate a model box. Capital Radio's breakfast show host, Des Clarke, hosted the entertainment for the day, along with live music from Busker Tommy McGuire and Radiophonic Tuckshop frontman Joe Kane.
The buses feature USB charging points, extra padded ELeather high-back seating and free WiFi. The Euro VI engine uses stop/start technology.
The first of the batch of 75 vehicles entered service on Wednesday 10 October on route 75 between Castlemilk and Milton via Glasgow City Centre.
First Glasgow Managing Director, Andrew Jarvis, said: "We are happy to say that this new investment means we will be fully compliant with phase one of the Glasgow Low Emissions Zone (LEZ) Traffic Regulation Condition.
"We now look forward to working in close partnership with Glasgow City Council to not only deliver the next phase of the process, but also to improve bus services and help make public transport more attractive to more people in Glasgow.
"First Glasgow are delighted to be working with Alexander Dennis and 21st Century Technology on the trial of a camera system which replaces conventional external rear view mirrors with four cameras and two interior displays.
"The system is intended to avoid the sun and light glare that mirrors can sometimes be subject to, as well as being designed to offer better visibility at night and in rainy conditions.
"It automatically adjusts to the light conditions and should also do away with lateral blind spots as well as eliminate the risk of collisions between the nearside mirror and a pedestrian.
"We will be monitoring the performance of the system and assessing the feedback from our driving team in order to inform any future decisions."
Councillor Anna Richardson, City Convenor for Sustainability and Carbon Reduction, added: "The bus industry has worked closely with the council to ensure delivery of the first phase of the LEZ, and I was delighted to hear of the investment First Glasgow has made to its fleet in advance of its implementation.
"Whilst the first phase of Glasgow's LEZ applies to local service buses only, we're committed to improving air quality and by the end of 2022, the strict exhaust emission standards required to enter Glasgow's LEZ will apply to all vehicles."
The Enviro400 MMC that was on display is also serving as the trial vehicle for the mirrorless Smart Vision system, with the rest of the delivered batch having normal fixed mirrors.