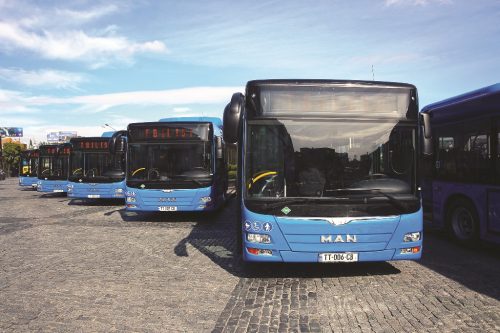 GEORGIA Although the Georgian capital Tbilisi is a holiday destination, it is not just tourists who find it a worthwhile place to visit – several sales representatives from MAN Truck & Bus also had a very rewarding trip there in July this year, culminating in the signing of a contract to purchase 143 MAN Lion's City CNG buses. It's the first time that vehicles made by the German manufacturer have been used by a Georgian transport company. The vehicles will be supplied in several batches, with the first instalment of 10 buses already having been delivered at the end of September.
The entire order was for MAN Lion's City buses, some equipped with a passenger counting system. All have three extra-wide doors to allow users on and off more quickly as well as being powered by a 310hp gas engine that meet Euro 6.
Passenger safety features include the electronic brake system (EBS) with ABS (anti-lock braking system) and ASR (traction control), as well as the ESP electronic stability programme. Inside each vehicle has seating for 31 passengers and standing room for another 54.