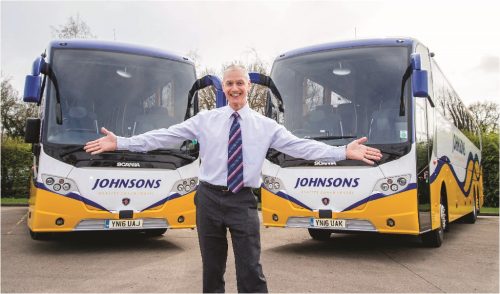 Johnsons of Henley-in-Arden has revealed it is to invest £1.5m in seven new coaches for 2017 – comprising Yutong midis and Scania executives for delivery in the Spring.
Due to popular demand for slightly smaller coaches, Johnsons has ordered a pair of 35-seater Yutong TC9s from Castleford-based dealer Pelican Bus & Coach. The vehicles will be equipped with USB power points, leather seats, climate control and audio and visual equipment.
Four new Scania Interlink Finesse 12.8m coaches will also be added to the operator's fleet next year. Two coaches will be 49-seat Club Class vehicles and will be used on the firm's own holiday and day excursion programme. The other two coaches will be 53-seaters, equipped to carry two wheelchairs. All four Scanias will boast reclining half real leather executive seats, WC, climate control, air-conditioning, fridge audio/visual equipment and USB charging points.
Not to be forgotten is the larger addition – a 63-seater tri-axle. The high-capacity vehicle will join the four 63-seater Scania OmniExpress coaches already in the fleet, which Johnsons said have proved popular with larger groups. The new 14.1m Scania Interlink Finesse will be equipped with 63 reclining half leather executive seats, a WC, fridge, air-conditioning, audio and visual equipment and USB charging points throughout.
Asked by CBW why Scania and Yutong products had been chosen, brothers Peter and John Johnson, the company's directors, replied: "We chose the 35-seat Yutong midi coaches following consultation with other operators. We need a vehicle with a proper coach feel to it and we chose Yutong for the quiet and smooth journey they offer our passengers – plus, with the engine at the rear, they provide great luggage space too.
"We have been very pleased with the overall performance of our four Scania OmniExpress coaches over the last three years, and we were immediately impressed with the new version of this coach, the new Interlink Finesse."