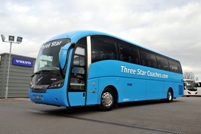 Three Star Coaches has recently received its first new Volvo coach – a B9R with Sunsundegui bodywork.
"I needed a coach which would offer real prestige and Volvo provides that," explained Three Star Coaches owner, Colin Dudley. "They are the leading manufacturer in the market as far as I'm concerned in terms of vehicles and their excellent aftermarket service."
Although not their first Volvo coach, with four pre-owned vehicles, the B9R is their first new Volvo.
Colin added: "It offered all of the facilities and higher levels of quality we required and with the stylish Sunsundegui bodywork, it also has that all important curb appeal.
"Jo Standbridge and the Volvo sales team gave us great support and allowed me to trade in an older vehicle." The new D9B 9.4-litre B9R, rated at 390hp and specified with the Volvo I-Shift gearbox, goes straight into active service. Colin continued: "The vehicle has been purchased for a developing our day trip programme. It has a busy schedule ahead and will be shortly heading off to the Isle of Wight on one of our three-day breaks."
The B9R is fitted with 55 executive passenger seats, two TV monitors, CCTV, air-conditioning, WC, CD/DVD sound system and an The new Volvo B9R Sunsundegui onboard fridge.