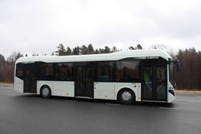 Volvo Buses unveiled a range of new vehicles at a press event in Borås, Sweden last Monday (April 22).
The vehicles on show included the 7900 Plug-in Hybrid, the 7900 Hybrid Articulated and an updated coach range, featuring the 9500, the 9700 and the 9900.
From 2014, all Volvo singledecker buses with low floors for Europe will be hybrids.
This month, Volvo Buses' first three plug-in hybrids will be tested in traffic in Gothenburg. A demonstration project has also been planned for 2014 involving eight plug-in hybrids in Stockholm.
Håkan Karlsson, President of Volvo Buses, said: "Bus operators have a lot of challenges, including attracting passengers and improving driver performance but they also need to support the cities' demand on emissions.
"Our plug-in hybrids reduce energy consumption by up to 60%. Based on the 7900H, the buses enable recharging through pantographs on the bus roof and the electricity grid at bus terminuses.
"The buses take between six and 10 minutes to charge and they can function as normal hybrids too."
Ulf Gustafsson, Senior Manager Public Affairs at Volvo Buses, said: "The purpose of the field test is to study and verify the anticipated reductions in energy consumption and emissions, as well as to compile information from drivers, passengers and surrounding residents about their views on the properties of the bus. In addition, we expect to be able to reduce emissions of carbon dioxide by up to 90% by using biodiesel instead of standard, fossil diesel oil in the combustion engine."
A full write-up of Volvo Buses' press event will feature in a future issue of CBW.