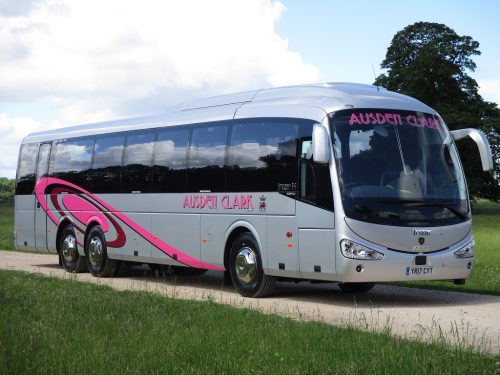 Ausden Clark & Carvers take first two 13.7m Scania Irizar 80-seater coaches
The first new 80-seater high capacity Scania Irizar i-Skools have been delivered to their respective operators – Leicester-based Ausden Clark and Carvers Coaches of Ellesmere Port.
Commenting on the latest addition to Scania's latest UK coach offering, Lee Wale, Regional Account Manager – Retail Sales, Bus & Coach Worksop at Scania (Great Britain) Limited told CBW: "The vehicle was developed quickly from a discussion Paul Ausden Clark had with us at Euro Bus Expo 2016 for a high capacity coach. We spoke with Irizar and together a vehicle was developed.
"The result is a coach which enables a large number of children to travel in air-conditioned comfort, either home to school or on a private hire. The specification for both Carvers and Ausden Clark includes all-age three-point belts on Prime seats; a DVD player; extra dark tinted glazing; and a reversing camera. Mechanically, the K360IB 6×2*4 chassis is powered by nine-litre Scania 360hp Euro 6 engine, coupled to a two-pedal Opticruise gearbox."
Asked by CBW if any forward orders have been received, Lee replied: "None as yet, but we have enquiries from customers. There are no plans to construct stock vehicles, but the lead times can be surprisingly short. It's a bespoke vehicle – and there are a number of options to meet operators' individual needs.
"For example, the vehicle can also be configured in more conventional '2+2' adult seats – and a wheelchair side lift is another option. One operator has already asked about the latter."
Mark Carver of Carvers Coaches, who collected his coach from Scania's Worksop premises on Thursday, told CBW: "I visited the Irizar factory in April with Lee Wale, where I saw the coach at the chassis stage. Lee also helped spec it. Irizar and Scania were very accommodating of our needs, such as the fitting of a tow bar, which forms part of our standard specification on all new coaches.
"On residential trips, luggage capacity is crucial, so it's not unusual for us to tow a trailer.
"Lee is our local representative. We enjoy a great relationship with him, as we do with his colleagues in the Scania bus and coach team."
Asked about his initial impressions of the coach, Mark said: "It's fantastic. I'm so impressed with the build quality – it's superb. The Irizar bodywork matches our Scania-based fleet's family styling, which includes a 15-plate i4 70-seater, a two-axle i6 and a pair of i6 tri-axles. The length of this coach may seem a little daunting at first glance because aside from our band bus, on a day-to-day basis, we don't run anything longer than 13m."
However, Mark added: "I also specified luggage lights, that can be switched on while the vehicle is in motion, illuminating the road down the sides of the coach. I believe it's an essential safety feature, particularly on narrow roads. I'm planning to fit corner cameras too that come on with the indicators, so the nearside footage is captured when the right-hand indicator is signalling to cover the tailswing. Centrad's system is a very useful feature. The more aids you give drivers, the better. I get behind the wheel myself – I value such features personally.
"Another extra I specified is a microphone on the first double seat on the nearside, where a teacher normally sits."
Asked what work he has lined up for it, Mark replied: "A lot of our customers no longer like double-deckers – they want a coach. A high capacity coach can be a cost effective option for schools. Locally, trees are a problem for double-deckers owing to conservation and cost concerns. We've got a contract for this coach. In fact, it's fair to say this coach helped win the business. I believe it's important to innovate and to invest. Customers demand a modern fleet."
As previously reported in CBW, the i-Skool was originally due for September delivery. Mark explained: "We've had it now in August as we bought a 17 numberplate for it – 'CA17VER.' We also wanted to type train the drivers and fit CCTV before the start of the new term."
Mark was keen to stress: "Scania's back-up is superb. Haydock Commercials' Ellesmere Port Scania is only five minutes away from our depot. We find Scania products to be very reliable. For drivers, Scania familiarity is invaluable too."
On a separate note, Mark said that his team is 'immensely impressed' with the recently acquired new Scania Touring. He added: "It's a versatile coach – it's out daily and undertakes all types of work, from local school runs to Spanish tours."
Adam Frost, Operations Manager at Ausden Clark said early indications are the coach has been well-received all-round. "Feedback from drivers and passengers so far has been excellent," he added.