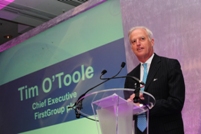 Shareholders in FirstGroup protested at slumping profits, the recent rights issue, and executive pay at last week's AGM. About a quarter refused to back Chairman Martin Gilbert's re-election – even though he has already pledged to resign in the wake of the £615m rights issue. Almost 30% voted against the remuneration report.
Despite the scale of the revolt, FirstGroup said AGM had been quiet – it was staged in its home city of Aberdeen. The vote against the remuneration report took place even though CEO Tim O'Toole turned down a £600,000 bonus and froze his £846,000 salary.
In the group's Interim Management Statement, Mr O'Toole said: "We appreciate this has been a challenging period for shareholders but we now have a stronger base to deliver improved returns."
On a more positive note, the firm said like-for-like passenger revenue in UK Bus rose 1.4%. It said it was seeing "particularly" positive results from those operations which are furthest along in its transformation programme. First said it was also "pleased to see strong volume growth" as a result of fares and network changes in areas such as Sheffield, Rotherham, Doncaster and Manchester. For the depots which have completed the first stage of the process, lost mileage and vehicle breakdowns have reduced by around a third.