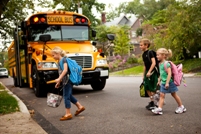 USA As part of the American School Bus Council's (ASBC) Love the Bus Month, a campaign designed to raise awareness and appreciation for school bus drivers, First Student, an American subsidiary of FirstGroup, has recognised its school bus drivers across the US for their dedication to safety while transporting students for 100 years.
In 1913, Newman City Schools contracted with Patchett Bus and Transportation Company, providing student transportation services in California's first school bus. Over the course of a century, the bus company ownership changed to First Student, the school bus design, safety features and driver training changed, but the commitment to safe, secure and reliable student transportation has remained.
According to the National Highway Traffic Safety Administration, school buses are approximately 13 times safer than passenger cars and nearly 10 times safer than walking or biking.
"Our drivers recognise the tremendous responsibility they undertake in transporting children to school throughout the year," said Linda Burtwistle, president of First Student. "Together, they drive more than 630 million safe miles each year, which is a remarkable number. We are proud of the work they do and appreciate our team's commitment to excellence. We truly love everything about the school bus."