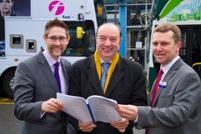 Funding will focus on improvements to city centre infrastructure, traffic control and audio-visual systems
South Yorkshire has been awarded a grant of £18.3m of Government funding to improve bus services and information across Sheffield.
Norman Baker announced the DfT grant on February 26.
The grant combines money already paid directly to bus operators with new Government funding, to be invested in improving bus services and traffic management across Sheffield. The local bid, developed in partnership with operators, aims to improve access to jobs and services across the Sheffield City Council area.
The additional £18.3m funding allows developments to be made in three key areas:
Improvements to infrastructure used by routes in the city centre;
Improvements to traffic control to reduce bottlenecks; and
An extension to the provision of audio visual equipment on buses.
Proposals also include revenue schemes to reduce costs for operators to minimise future fare increases, highways improvements and technology to better control traffic signals and give priority to buses.
David Young, SYPTE Director of Customer Experience, said: "An effective bus network is an essential part of a vibrant economy and the BBA grant will help get transport moving more efficiently on key corridors in Sheffield, support employment and improve air quality for everyone.
"We are committed to providing the best transport network for this part of Sheffield and this additional funding means SYPTE has secured inward investment in excess of £150m in the last two years."
To qualify for BBA funding, the Sheffield Bus Partnership's proposals had to demonstrate good value for money, patronage growth and emission benefits, reduced wait journey times and the support of local operators.
Giles Fearnley, First UK Bus MD, said: "The members of the Partnership, working together, have already made great strides in improving the quality of services but we have plans to do a lot more. This funding will give a real boost to us being able to deliver on these further improvements, benefiting passengers across Sheffield."
David Sidebottom, Passenger Focus Director, said: "The BBA is potentially good news for Sheffield's bus passengers as it will deliver investment in infrastructure and new buses, all of which should lead to improved levels of passenger satisfaction with local bus services. Our annual Bus Passenger Survey finds out what passengers in Sheffield and surrounding areas think about their local bus service, so they will have the opportunity to give their verdict on whether the BBA has delivered the things that are important to them."