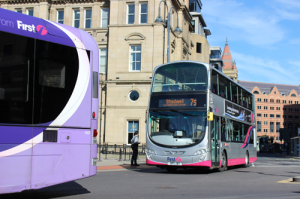 Operator believes the case "raises important issues for the wider industry"
FirstGroup has confirmed it intends to appeal against the recent landmark ruling (CBW1108) ordering wheelchair users be given priority over mothers with pushchairs in the priority bay.
The original claimant Doug Paulley, 35, took the company to court after he was not able to get on a bus because a mother refused to move her pram, in fear of waking her child.
The court ruling stated it was an unlawful discrimination, being in contravention of the Equality Act 2010, and awarded Mr Paulley £5,500. First was also ordered to change its policy within six months.
A First spokesperson told CBW: "Our current policy points out that 'wheelchair users have priority use of the wheelchair space' set aside on our buses but our drivers have no actual
power to require people to vacate the space. Despite this, the court decided we must require people to move to another part of the bus, or leave altogether, if a customer in a wheelchair needs the space.
"We recognise how important it is that bus services are accessible to all customers and our drivers across the country are trained to act in accordance with our policy, which is to ask in the strongest polite terms to make way for the wheelchair user, which the driver did in this case. A previous court decision on very similar facts decided this approach
was correct. There is therefore, real uncertainty as to our obligations and we have decided to ask for permission to appeal as we believe it raises important issues for the wider industry."
Reacting to the news, Mr Paulley told the Yorkshire Evening Post: "I don't understand what they will gain. This will give a massively negative impression of the bus company to others. I don't see why there can be different policies in other parts of the country. In London they have to help disabled people find seating and move people if necessary."