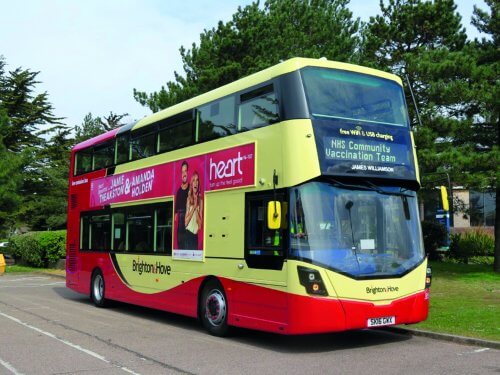 The first vaccination bus for the Brighton area welcomed people on board at the Meridian Centre in Peacehaven on 6 May.
The mobile vaccination bus is a partnership between Brighton & Hove Buses, Here, a not-for-profit healthcare social enterprise providing NHS services, and Brighton & Hove Clinical Commissioning Group.
Brighton & Hove and Metrobus' Managing Director Martin Harris said: "We are very proud to be part of the NHS' Coronavirus vaccination program. It is also a privilege to work alongside Here, which does excellent work putting patients first by integrating their healthcare.
"The bus is ideal because it has a built-in one-way system and it's easy to ensure good ventilation. Some people, like those who have been shielding, may prefer not to go to hospital for their jab and get on a bus instead.
"There has been a lot of enthusiasm among our drivers to drive the vaccination buses. They've been keen to drive them because they want to be part of the national effort to reach everybody and to help get people protected."
A Metrobus bus became the UK's first mobile Covid-19 vaccination unit when it opened its doors in Crawley in February 2021.
Since then, Martin said the bus company had received a number of enquiries from hospitals, GPs, and bus companies about setting up similar projects in other parts of the country.