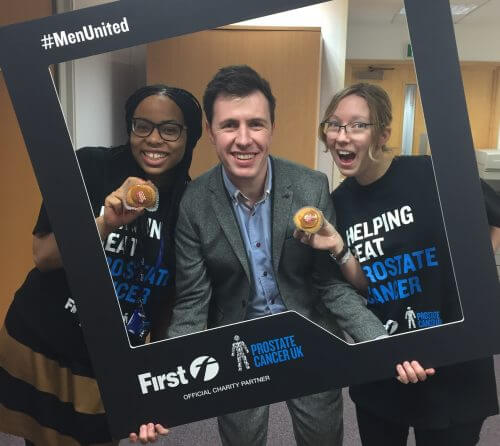 FirstGroup employees raised £3, 600 for Prostate Cancer UK with 'Brew & Bake' cake sales
An assortment of cakes and hot drinks were up for grabs, in exchange for charitable donations. The operators staff rose to the occasion at sites across the UK, including the offices of Great Western Railway and TransPennine Express, as well as First Bus depots in Swansea, Manchester, Bradford and Essex.
Dan Worley, Operations Manager at the First Essex depot in Hadleigh, said: "It is really good to see our staff raising awareness and funds for such a worthwhile cause; for an issue that many people just don't talk about. All credit to the engineering team at our depot who took the time to organise the event and everyone who donated cakes and cash."
James Beeby, Director of Fundraising at Prostate Cancer UK, said: "It was great to see so many FirstGroup employees hosting Brew & Bake sales during Valentine's Week. As well as raising funds, this initiative will also raise awareness of a disease which affects one in eight men in the UK, and will hopefully get across an important health message.
"Our aim is to reach as many men as possible, and encourage them to take responsibility for their health. We thank the team at FirstGroup for helping us in the fight against prostate cancer."
More than 330,000 men in the UK are living with prostate cancer, with one in eight men diagnosed with the disease at some stage in their lives. 43,000 men are diagnosed with the disease every year – that's 110 fathers, husbands and brothers every day. Prostate Cancer UK is FirstGroup's employee-voted charity of choice. Since the partnership began in April 2015, FirstGroup has donated more than £600,000 in fundraising, donations and in-kind support.