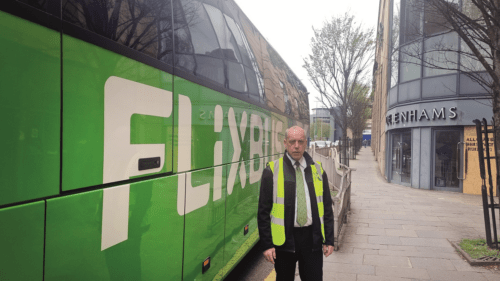 A coach driver from Dundee has been praised for his 'lifesaving' actions to prevent a fatal collision near Aberdeen last month. Driver Thomas Ferguson, aged 51 and with 34 years of driving experience under his belt, had been working as a FlixBus driver with partner operator McGill's since August 2022.
On 1 May, Thomas was driving a FlixBus service northbound on the A92, formerly the A90, between Stonehaven and Aberdeen at Muchalls. A lorry travelling southbound on the dual carriageway lost control. Thomas said he could see the lorry driver attempting to brake but the vehicle was not stopping. He knew instantly he needed to steer away from the lorry to avoid a fatal crash, he said.
The lorry jack-knifed and crossed all four lanes of the road, as Thomas quickly manoeuvred the coach onto a grass verge to the left. His swift decision meant the lorry struck only the offside rear corner of the coach, which remained upright. Passengers are reported to have been unharmed apart from 'a couple of scrapes.'
Thomas said: "There was no way we would have avoided collision without doing something. I think I had less than a second to decide what to do. Then, seeing the back of the coach afterwards, that half second was probably the difference between life and death."
He added that his two children were relieved to see him after the incident. "My biggest concern was for my passengers – I immediately went to check on them and thankfully they were all ok," he said. "I've never seen or done anything like that in over 30 years of driving."
One passenger praised the driver for his quick thinking and proficiency in avoiding any serious injury his passengers. "His aftercare and concern for us all and to get us to our destination was above and beyond," she said.
Team Lead of Operations for FlixBus UK Hayley Russell said: "It's nothing short of a miracle that no one was seriously injured or killed. We are so grateful to have Thomas on our network representing Flixbus – he saved lives thanks to his quick reactions that day."
Managers at McGill's, who said they were shocked after seeing the incident through the coach's on-board CCTV, also praised Thomas' actions. Group Service Delivery Director for McGill's Colin Napier said: "His clear thinking and alert actions saved the day from what would have otherwise been a horrific crash. Watching the heart-stopping footage showed just how brave Thomas was; passengers saw it unfold in front of them and realised that he saved their lives."