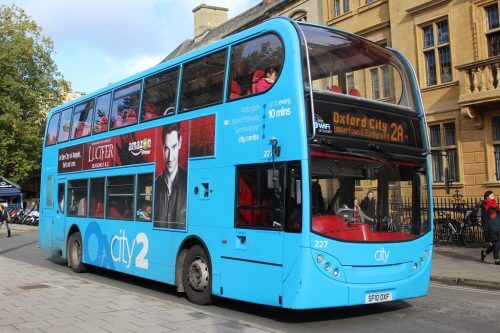 Colin Smart, an accounts employee, stole the money over six years by manipulating float payments
An Oxford Bus Company employee who stole almost £750,000 to fuel his gambling addiction has been jailed, the Oxford Mail reported. Colin Smart admitted stealing £733,737 from the operator between April 2011 and March 2017.
Oxford Crown Court heard that the money could have halted a strike at the company last year, which saw the transport network badly disrupted on two days in February and March.
In a victim personal statement read out to the court, Finance Director Luke Marion said: "Public transport in Oxford has been a difficult market to operate in. Had the company been in possession of the funds stolen, it would have been very likely this dispute could have been resolved prior to strike action taking place."
He added that it also put a squeeze on existing staff, who had to take on Colin Smart's role in the accounts department, and also hurt him personally as the finance director in charge at the time.
Bank records showed that Colin had sent large sums of cash to William Hill and Sky Bet. The accounts employee, who had worked at the firm for 28 years, also bought an Audi R8, valued at £89,332, as well as a Ford Mondeo costing £18,150. He later paid off a mortgage on his Witney home, costing £132,661.71.
The fraud was discovered after Paypal contacted Oxford Bus Company to flag up suspicious activity on its books. On further investigation, the company uncovered a theft of just over £10,000, with payments registered to Smart's personal email address.
Colin was suspended, but it was later revealed that the final tally had in fact been hundreds of thousands of pounds higher when the full extent of the fraud was uncovered.
Colin had altered 'float' payments accrued from daily tallies from kerbside ticket collectors before he pocketed the cash, having covered his tracks from his position in the accounts team. Investigators also found that Colin would regularly make sizeable deposits into two bank accounts following each theft.
Sentencing, Judge Roger Chapple said: "You were a trusted member of the accounts team. You systematically and repeatedly abused that trust that had been placed on you.
"The company have lost about £725,000 and as Luke Marion observes these are not victimless crimes.
"The repercussions of your dishonesty have and will be felt by not only shareholders, but the fare paying passengers of Oxford."
In mitigation, Clare Fraser said that her client was of previous good character and had only begun stealing the money after he fell into a crippling gambling addiction at the beginning of 2011. She told the court that his habit had spiralled out of control and that he had kept his addiction to himself rather than seek help.
Smart was jailed for four years, made up of a four-year sentence for converting criminal property, eight months for one count of fraud by false representation, and two years for a single count of theft, all to run concurrently.
Oxford Bus Company Managing Director, Phil Southall, said: "We were deeply shocked and disappointed when we discovered Colin Smart had betrayed the trust we put in him over the 28 years that he had worked for the company, and even more so when the extent and long duration of the fraud was confirmed.
"Theft of any kind cannot and will not be tolerated. Once we became aware of the issue we immediately called the police and we support the Judge's verdict. We will also be robustly seeking to retrieve as much of the money that was taken as we can.
"This is an extremely rare act executed by someone who exploited a loophole that only someone in his position could have discovered. He was caught following improvements in technology and we can confirm that our systems and procedures have been further tightened as a result.
"Unfortunately, such actions have wide ranging negative consequences and there are no winners in this case involving a very long serving employee with an addiction.
"We have a 24 hour helpline for all of our colleagues, which has been in place for many years, and we have reminded colleagues it is there to support them should they need it for any matter."