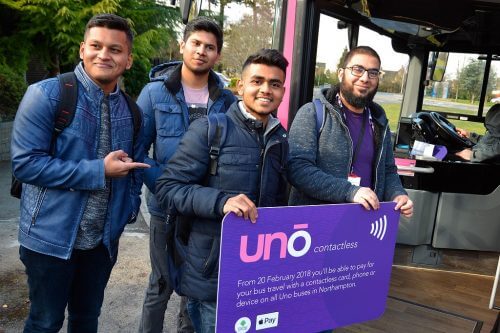 Uno Buses, along with the University of Northampton, has officially launched contactless payments on its new Ticketer ETMs.
The company claimed to be the first operator to go live with contactless payments across Northampton. It is now available on all Uno services, including its Violet 19 route which saw a £1.5m investment in October 2017.
As well as allowing passengers to tap their bank card to pay their bus fare, Apple and Android Pay are also supported, allowing mobile phones to be used to make payments.
Jim Thorpe, Managing Director for Uno Buses, said: "This is a great development for us here at Uno. We know our customers want convenience and contactless makes bus travel that little bit easier.
"It's also a great way to encourage more and more people to join us onboard, especially for those who don't travel with us regularly. The team here are so excited to be able to offer further enhancements to the customer experience.
"The new ticket machines will also be key in us developing and improving our digital platforms, so customers can access better real time information about their journey.
"As part of the launch event we carried out a time trial with six students boarding the bus paying with cash, and six students using their contactless bank cards. No surprises, it was almost 30% faster."
John Clarfelt, Managing Director for Ticketer, commented: "We are proud to be working with Uno Buses to offer their passengers every payment option through our contactless ETMs. Customers can now pay in whichever way is convenient for them. We expect to see a big rise in the use of contactless payments which will also help speed up boarding times, so everyone benefits."
David Lewis, Vice President: Union Development for the Students' Union, said: "The introduction of contactless payment is a fantastic addition to the Uno buses fleet that will make boarding an even faster process for everyone.
"Alongside the implementation of free WIFI and USB charging points earlier this academic year, our students benefit from a truly modern travel experience."