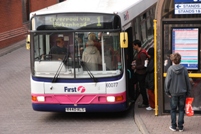 Scheme provides free travel for those who are eligible during January
More than 800,000 jobseekers are set to benefit from free bus travel in England, Scotland and Wales as part of a new industry initiative, Bus for Jobs – first revealed in CBW1063.
The scheme organised by the Greener Journeys sustainable travel campaign is supported by all major bus operators and enables jobseekers, especially the young, to use their services free of charge for a month in January 2013.
The deal covers over 70% of the nation's bus routes and aims to give a helping hand to people who are actively hunting for work or training. Bus travel is the most popular mode of transport used by Britain's commuters, with 5.2 billion bus journeys in the UK each year.
The Bus for Jobs scheme will provide free travel on the bus services of participating operators for the month of January and jobseekers who have been unemployed for between three months and a year will be eligible, although the scheme is particularly targeted at young people for whom unemployment rates remain high. Latest government figures show the offer will be available to as many as 817,000 people who are currently out of work and claiming benefits.
Arriva, First, Go-Ahead, National Express, Stagecoach and other operators including Blackpool Transport, Kinchbus, Cardiff Bus, Network Warrington and trent barton have agreed to support the joint initiative.
The scheme will cover holders of a JobCentre Plus Travel Discount Card. Those who are eligible for the card, which is available through JobCentre Plus, include people claiming Jobseekers' Allowance, Incapacity Benefit, Employment and Support Allowance or Income Support and actively engaged with a Jobcentre Plus adviser in returning to employment.
Claire Haigh, CEO of Greener Journeys said: "In difficult economic times, this new scheme will enable job hunters to travel around more easily in search of employment, to interviews with prospective employers, and to training courses which will help them find work."
Transport Minister Norman Baker said: "Good bus services play a huge role in boosting economic growth by helping people to access employment and training opportunities. I have been encouraging operators to look at the fare deals they can offer to young people looking for work, so I congratulate the operators for doing so in January and look forward to seeing more offers."
David Brown, CEO of the Go- Ahead Group said: "Buses already support the UK workforce, with more people commuting by bus than all other modes combined. Bus for Jobs can help people find work, go to interviews and access training opportunities which is good for jobs and the economy."
Sir Brian Souter, CEO of Stagecoach Group, said: "Bus for Jobs could make the vital difference for those who are struggling to get that first job or training place. I hope we can help more of our youth make a better start in life."
Visit the dedicated website at www.busforus.co.uk