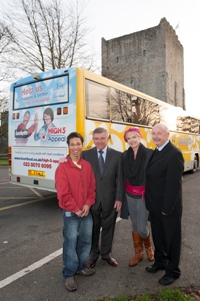 Lucketts is supporting the Wessex Heartbeat charity by helping to raise the profile of its HIGH 5 appeal.
The campaign aims to raise £500,000 to create a special cardiac unit at Southampton General Hospital for patients aged 16–30 with life-long heart conditions.
One of the Fareham-based operator's school coaches now carries giant pictures of two local young people who have benefited from the help of Wessex Heartbeat.
At the moment heart patients have to move to an adult ward when they reach 16. It means many youngsters find themselves being treated alongside much older people with very different needs from their own. Wessex Heartbeat wants to provide a dedicated ward which could help any of the 7,000 young patients with congenital heart conditions who attend the Wessex Cardiac Centre in Southampton every year.
An estimated one in every 100 children born in the UK has a congenital heart condition and the charity has been helping youngsters in Southern England since 1992.
Wessex Heartbeat CEO Alison Farrell said: "No one should underestimate the impact of a life-long heart condition on young people. This is why what we are setting out to achieve through the HIGH 5 Appeal is important, and why we're extremely grateful to Lucketts Travel for doing so much to support us. Without question, the advert on the coach will help us spread the message to many people in the local area and hopefully encourage more supporters to join us in helping young people."
Lucketts Travel will also be providing transport to and from the Mayflower Theatre for school children taking part in Wessex Heartbeats HIGH 5 Variety Show on March 10 next year. There will also be a schools competition to design a special HIGH 5 coach tour.
David Luckett MBE, of Lucketts Travel, said: "We are delighted to give Wessex Heartbeat the back of our coach to help raise awareness of their HIGH 5 campaign. The charity does such amazing work and we know a new dedicated ward for young heart patients could make a big difference to their recovery from treatment and future lives."