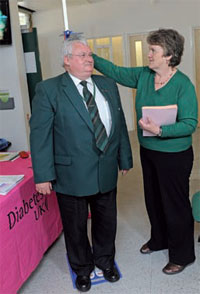 Diabetes no longer such a strong barrier to obtaining a vocational licence
The Freight Transport Association has welcomed changes in the law which will now enable people with insulin treated diabetes to apply for vocational licences to drive buses or lorries.
Under new rules which came into force on November 15 drivers who would normally be prevented from obtaining or driving a vocational licensed vehicle will now have their applications considered by the Driver and Vehicle Licence Agency (DVLA), albeit the driver will be required to conform to a very strict monitoring regime.
Ian Gallagher, FTA policy manager, said: "This change in the law could mean some people who were previously prevented from driving are now able to regain their livelihood and their independence. Of course it is vital to make sure that only drivers who are safe to do so are allowed to drive on our roads, but the government is confident that medical advancements in treatment and diagnosis mean that a blanket ban is no longer needed. This change will give those whose condition is under control the opportunity to work and to make a useful contribution to society."
The changes follow a consultation earlier this year on amendments to driver medical standards which looked at standardising medical rules on diabetes, epilepsy and vision across EU Member States. An announcement on proposed changes regarding vision and epilepsy is expected next year.
To be able to apply for entitlement to drive Group 2 category vehicles the following criteria have to be met when treated with medication which carries a risk of inducing hypoglycaemia (insulin and some tablets):
There has not been any severe hypoglycaemic event in the previous 12 months;
The driver has full hypoglycaemic awareness;
The driver must show adequate control of the condition by regular blood glucose monitoring, at least twice daily and at times relevant to driving*;
The driver must demonstrate an understanding of the risks of hypoglycaemia; and,
There are no other debarring complications of diabetes.
*To demonstrate adequate control of the condition by regular blood glucose monitoring, the Secretary of State's Honorary Medical Advisory Panel on Diabetes Mellitus (the Panel) has recommended applicants with insulin treated diabetes will need to have used blood glucose meters with a memory function to measure and record blood glucose levels for at least three months prior to submitting their application.
The requirement to demonstrate three months of blood glucose monitoring before applying for Group 2 licensing is already a requirement of the current limited C1 licensing requirements. The additional requirement to demonstrate monitoring using a blood glucose meter with a memory function is considered by the Panel to be an appropriate additional requirement to balance the desire to increase opportunities for those affected while ensuring there is a negative impact on road safety.