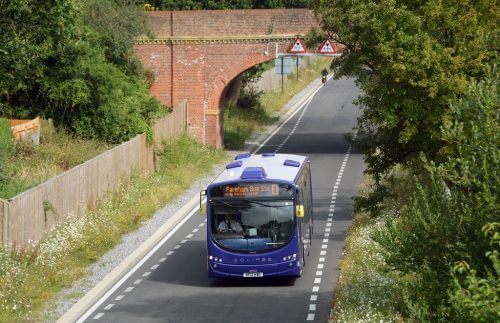 Hampshire County Council (HCC) and First have welcomed the announcement from the Department for Transport (DfT) confirming that their bid for funding to extend the South-East Bus Rapid Transit (BRT) scheme has been successful.
Minister for Transport, Chris Grayling MP, confirmed that £6.93m from the National Productivity Investment Fund of £345.3m has been awarded to fund the extension.
The route comprises 3.4km (2.1 miles) of dedicated busway, running along a disused public railway line, from Redlands Lane in Fareham to Tichborne Way in Gosport. The Eclipse E1 and E2 services are now carrying 60% more passengers than the services they directly replaced, the 82 and 86. Furthermore, HCC customer research has claimed that there has been a 20% shift from people using cars to the bus since the scheme was launched.
Marc Reddy, Managing Director for First Hampshire, Dorset & Berkshire, commented: "We're delighted that the funding to extend the BRT route has been accepted. We've worked tirelessly with our partners at HCC to deliver the premium Eclipse service, and following its launch in 2012, the numbers of passengers that have used the service has been remarkable.
"It's fantastic that this has been recognised by the DfT as an innovative and well executed solution to alleviate the towns that we serve of congestion. Not only has the BRT and Eclipse ticked all the boxes when combatting congestion, the buses are also one of the cleanest with regards to emissions, so further helping air quality.
"We look forward to continuing our positive relationship with HCC to make the bus travel more accessible and attractive for the people from Fareham to Gosport, and everywhere in between."
Cllr Rob Humby, HCC's Executive Member for Environment and Transport, said: "This is great news. With this substantial investment, we can now take forward our long-standing plans for the £10.4m scheme to extend the Gosport to Fareham Bus Rapid Transit busway.
"We have a strong track record in securing external funding for transport schemes, as evidenced by our capital programme for 2017/18 – 2019/20, which has a total value of £100m for new roads and improvements. HCC is well positioned to secure external funding to help deliver the necessary transport infrastructure to address current and future growth pressures and improve access to employment and services, as well to strengthen the county's wider connectivity."