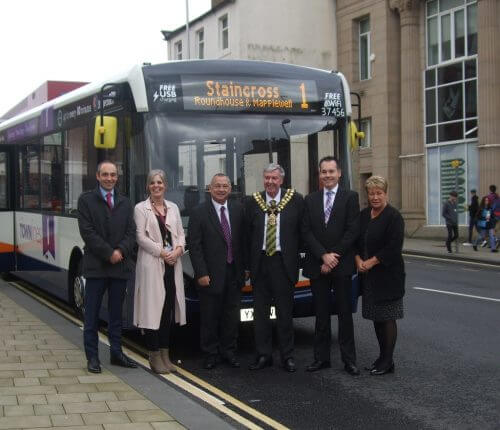 New vehicles to run on service 1 and feature E-Leather seating, WiFi and USB charging points
A fleet of six new buses has been launched in Barnsley following an investment of nearly £1m by Stagecoach Yorkshire.
Stagecoach has introduced the Alexander Dennis Enviro200 MMC single-deckers on service 1, which serves Barnsley to Staincross up to every 10 minutes. The vehicles have stop-start technology and Euro 6 engines.
As well as contactless payments, passengers will also benefit from free WiFi and free on-bus USB charging points, along with E-Leather seating.
Matt Davies, Managing Director of Stagecoach Yorkshire, said: "This major investment is part of our ongoing commitment to the Barnsley Bus Partnership to improve local bus services and help to reduce the increasing congestion problems we see on the roads in South Yorkshire.
"Modern lives are busy and fast-paced, so being able to use – and charge – smartphones, tablets or laptops on-board for work or leisure is becoming a key expectation of the travel experience.
"With the E-Leather luxury seating, we hope to make journeys more comfortable and pleasant, while the environmentally-friendly low emission Euro 6 engines on our new buses will improve air quality and encourage our communities to be greener and reduce congestion by getting onboard the bus."
Cllr Roy Miller, Cabinet Spokesperson for Place, said: "We are delighted to see new investment going into Barnsley's bus service.
"The new fleet of buses will reaffirm our green credentials and show commitment to promoting sustainable travel within the Barnsley Bus Partnership."