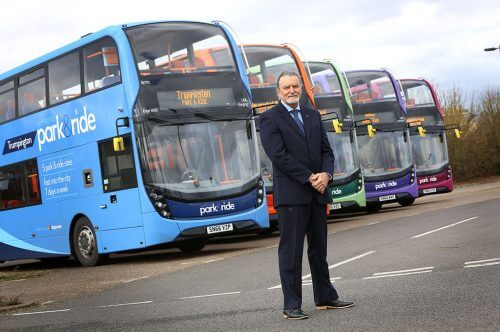 Carole Aye Maung talks to Andy Campbell, Managing Director of Stagecoach East about alternative drives – including the future of Cambridge buses with his aim to operate a pure electric bus fleet in the city of Cambridge
Electric buses could be operating on Cambridge city roads within a few years, according to Stagecoach East's Managing Director, Andy Campbell.
In a no-holds-barred interview, the bus boss reaffirmed his commitment to greener, smarter travel, revealing that he is considering introducing electric, gas or hybrid buses in a further bid to help improve air quality within the city centre.
Stagecoach East has already made a significant contribution towards reducing nitrous oxide emissions this year, investing £4.7m in a fleet of 22 'greener' Park & Ride buses – ADL Eniro400 MMCs, all fitted with the very latest stop-start technology which prevents buses from ticking over at bus stops.
Mr Campbell explained: "According to a recent report by tracking firm Satrak, Cambridge is the slowest moving city in the UK, with traffic crawling along at an average speed of 13.73mph. That's disastrous news in terms of our air quality as contamination is caused by emissions from stationary vehicles ticking over for long periods, especially in traffic queues; cars as well as buses and all cars – not just diesel ones.
"Therefore, if we could only keep the traffic flowing and the vehicles moving, that alone would dramatically improve air quality. However, the ultimate is for Stagecoach East to eventually be running pure electric buses. Gas would, currently, be my second preferred option in terms of improving air quality. The third would be a hybrid, part-electric, part-diesel engine.
"Clearly, we are reviewing all three options because we want to improve air quality in the cities where we operate and we want to stay ahead of the game. However, it has to be done in a cost-effective manner so that we are not passing on significant cost increases to our customers."
Electric dream
There are, however, a few issues to overcome before realising the pure electric dream.[…]
What you get with a subscription
Operator & Supplier Profiles
Face-to-Face Interviews
Lastest News
Test Drives and Reviews
Legal Updates
Route Focus
Industry Insider Opinions
Passenger Perspective
Vehicle Launches
and much more!