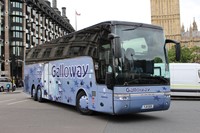 Deal to be completed by November – but operations to remain indepdent after Galloway executive directors' retirement
Suffolk coach tour and groups specialist operator Galloway Travel Group (GTG) is to join the fold of respected bus operator Stephensons of Essex. The latter's parent firm, Eastern Transport Holdings Limited (ETH) is to acquire GTG at the end of November – it was announced last week.
The directors and management team of GTG will work closely with the directors of ETH to ensure that the new owners are able to develop an in-depth knowledge and awareness of all aspects of the trading style of GTG before completion of their acquisition sale.
The directors of GTG intend to delegate day-to-day involvement in the business with immediate effect, handing over operational management to the existing management team of Richard Smith, Dan Rogers and Charles Pratt who have been working with the GTG directors over the last few years to support the intended retirement of the executive directors this year.
This announcement follows a period of close communication and discussion with the directors of ETH, whereby the retiring directors of GTG have been keen to ensure that the long-term business plans of the new owners are aligned to the Galloway model.
David Cattermole, Galloway Managing Director, said: "My fellow directors and I look forward to working with the ETH directors and management team in the future development of Galloway."
GTG provides an extensive range of adult and school tours, coach hire and services on behalf of National Express, as well as local bus services within Suffolk. According to Companies House, ETH was incorporated on March 8, 2016. The Private Limited Company has two directors – Bill Hiron and Gary Raven. ETH shares common ownership with Stephensons of Essex Limited, a successful independent business providing local bus, school and rail replacement services across Essex and West Suffolk.
Bill Hiron Managing Director Stephensons of Essex Ltd and director of ETH, told CBW: "
Galloway is a well-respected business comprising a number of distinct business sectors, ranging from local bus and National Express services, through to a long-established adult and schools tours programme, with an experienced and professional management team and a great reputation with its customers.
"The acquisition of GTG represents a logical extension to the existing business, and is commensurate with our vision to diversify both our geographic footprint and range of income streams within the Eastern region. Nationally, there is a great deal of uncertainty over local bus services, although fortunately there is not a serious threat locally for us."
Asked about the combined fleet size, Bill replied: "The deal is not scheduled for completion until November. Although it will make for a larger fleet, I must stress that the businesses will remain separate – Galloway will not become Stephensons. GTG will continue to trade as a standalone business, distinct from other subsidiary operations of ETH, and to operate from the existing Head Office located at Mendlesham. The existing management team at Galloway will be instrumental in assisting ETH in planning and developing an exciting future for Galloway over the coming years."