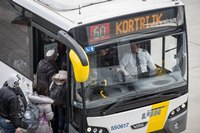 De Lijn has ordered 121 VDL Bus & Coach Citea SLEs and another 10 that will be used as driving training vehicles, with a second set of pedals for an instructor. This €27m order is supplemental to the 67 Citea SLEs and nine Citea SLFAs that were ordered in August 2015.
De Lijn said the first of the new buses are expected to enter service this autumn. 21 of them are going to the province of Antwerp, 47 are Limburg, 19 are for East Flanders and Flemish Brabant is to have 15 – while 19 are destined for West Flanders
"We are extremely happy with this great follow-up order from De Lijn," said Peter Wouters, Managing Director of VDL Bus Roeselare, the factory where the Citeas for De Lijn are being built. "In less than three years, De Lijn has ordered a total of 345 buses and 41 micro buses from us. We are proud to be able to build so many buses for De Lijn."
To secure the order the emphasis was on quality, durability and total cost of ownership, which includes not only the purchase price but also factors in consumption and maintenance costs.