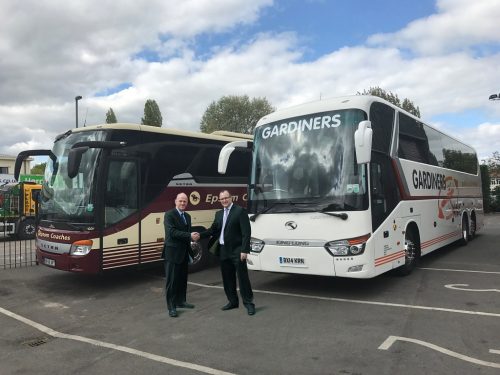 Surrey coach tour operation to join Northumberland fold
Northumberland-based Gardiners NMC has done a deal with Epsom Coaches to continue operating Epsom's holiday and day excursion programme when the popular Surrey firm shuts its coach touring operation on June 25.
The deal sees Melanie Cox, Epsom's Sales Manager and Alistair Scott, Product and Marketing Manager, joining Gardiners NMC, along with reservation staff. Also included in the deal are two Setra S416GT-HD tri-axle coaches, which will be modified to match Gardiners NMC's standard touring specification with the fitment of power sockets and WiFi.
Adrian Smith, Managing Director of Gardiners NMC, told CBW: "I am delighted to announce that Gardiners NMC has secured the future of the Epsom Coach holiday and day excursion programme. Whilst unfortunately the Epsom Coaches name will be no more, we are proud to expand the Gardiners NMC name. Our new booking office in Epsom will be run and operated by the former Epsom Coaches team, led by the well-respected Melanie Cox and Alistair Scott.
"Epsom Coaches customers have all been informed and assured they will enjoy the same tours, great service, excellent staff and even the same phone number. We have already put a large selection of the tours back on sale and the existing bookings have been transferred over to Gardiners NMC. The response so far has been fabulous. Customers are delighted – the move has been very well received."
Asked by CBW where the coaches will operate out of, Adrian replied: "The coaches will be based at Morpeth, our main depot. We're fortunate to have some experienced, long-standing staff in Northumberland."
Adrian was keen to stress: "Steve Whiteway and the team at Epsom Coaches have been great to deal with – we're delighted to welcome some of the team there into Gardiners NMC."
Steve Whiteway, MD at Epsom Coaches told CBW: "The key thing for me is this sale offers continuity for staff and customers."
NMC Tours Limited was founded in April 2008 by Glenn and Adrian Smith following the sale of their former company Northumbria Coaches to Go North East. The father and son retained the coaching element of the business. During this time talks began with Gardiners Travel of Spennymoor, County Durham, which had been established for 75 years. In May 2008, Gardiners Travel and coaching operation was acquired and Gardiners NMC was born. Today Gardiners NMC Ltd has a 15-vehicle Standard International O-licence, with operating centres at both Morpeth and Alnwick.
For more details about Gardiners NMC, visit www.gardinersnmc.co.uk.