Latest order for Citaro gas buses will bring the total operated by EMT, Madrid to around a third of the fleet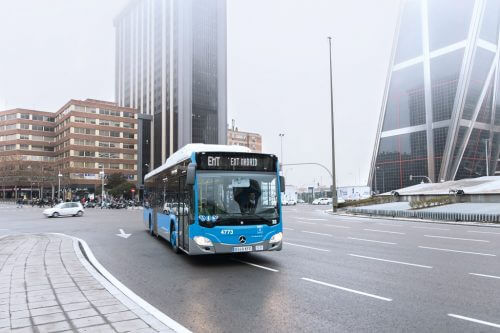 SPAIN EMT (Empresa Municipal de Transportes de Madrid) of Madrid is set to receive 276 Mercedes-Benz Citaro NGTs over the next two years. It's the third time that EMT has ordered Citaro NGTs and brings the number it operates up to 672.
"We are particularly pleased with the order from Madrid," said Till Oberwörder, Head of Daimler Buses. "It clearly shows that our Citaro NGT is proving its worth. EMT placed its first order two years ago for 82 urban buses of the newly launched Citaro NGT model. The following year, the company ordered another 314 buses. The current order means that there will be a total of 672 environmentally friendly Citaro NGT buses operating in Madrid from 2020."
The vehicles are two-door and 12m. Power comes from a Mercedes-Benz OM936G natural gas engine that undercuts the Euro VI emission limit by a significant margin in some situations says the manufacturer. Its output and maximum torque of 1,200Nm enables the engine to achieve the same performance as a diesel engine.
In natural gas operation, CO2 emissions are up to 10% lower than a diesel. When using biogas, a NGT bus is almost completely CO2-neutral. Noise emissions are also up to 4 dB(A) lower which corresponds to roughly half the subjectively perceived noise level.
The rear end of the EMT Citaro NGT buses is closed with the usual rear window omitted. Passengers enter the vehicle at the front via an inward folding door and in the middle via an electrically powered swivelling-sliding door. Cassette and folding ramps are provided for wheelchair users. Passengers sit on sculptured seats and have access to five double USB sockets for charging their portable devices.
Eight hinged windows and an enhanced passenger compartment air-conditioning system allows the Citaro NGT to cope with hot conditions during the Madrid summer. The driver's cab has its own separate air-conditioning. The driver sits behind a protective door with a partition window that covers the full width of the door. Another window above the front-end sill then closes off the cab completely. Video cameras enable the driver to keep an eye on what's going on onboard.
EMT is Spain's biggest urban operator with 2,000 buses and it employs over 9,000 staff including 6,000 drivers. Its network comprises 209 routes with over 10,000 bus stops and 430m passenger journeys are made annually.