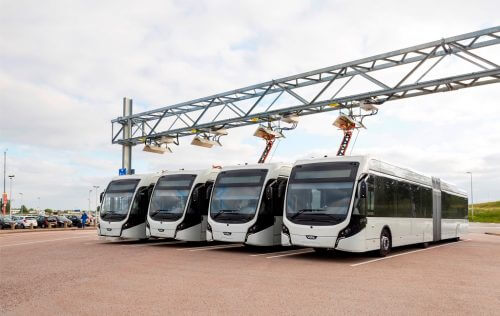 NETHERLANDS More than 250 VDL Citea electrics are in operation across Western Europe and VDL Bus & Coach has expanded the product package with a new generation of batteries and a charging connection for an inverted pantograph.
"Continuing to innovate in E-Mobility is of key importance if we are to maintain our lead in the field of zero emission public transport at VDL," said Alex de Jong, Business Manager Public Transport at VDL Bus & Coach. "As transition partners, we are constantly striving to further optimise the usability of electric buses and to reduce total operating costs. The introduction of the new battery systems and inverted pantograph compatibility are the clear result of our efforts."
The latest developments in the field of energy density have meant that the capacity of the basic battery pack used by VDL has increased by around 20%. Two new air-cooled battery systems with an energy capacity of 216 and 288 kWh have now been made available. With an admissible C-rate of 1.5C, the battery packs can be charged to a capacity of between 300kW and 450kW. The new battery modules also satisfy the R100.2 safety requirements imposed on battery systems.
The 288kWh battery pack on VDL Citea 12m buses delivers a range of between 150 and 200km without the need for top-up charging. The only charging required is via a CCS plug. By equipping the bus with a pantograph with a 450kW charger, the vehicle can receive a top-up charge in just 45 minutes and increases its range to up to 500km per day per vehicle. For the operators this means added flexibility in operation, charging possibilities that specifically match the customer's wishes and more favourable total cost of ownership.
By introducing a new charging connection for the inverted pantograph, VDL Bus & Coach says it has responded to market demand for integration with existing systems. Further standardisation within the market will make it possible for the inverted pantograph to be employed on a broader scale. The most suitable type of pantograph, either roof-mounted or inverted, is selected according to the mode of operation.